Reseña: P.S. I Still Love You - Jenny Han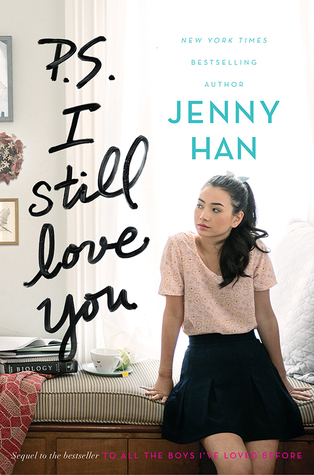 Editorial:
Simon & Schuster Books for Young Readers
ASIN:
B00KU4PWFE
Edición: Kindle
Idioma
:
Ingles
Lara Jean no esperaba enamorarse de verdad por Peter. Ellos solo estaban pretendiendo. Excepto que de repente ya no lo estaban. Ahora Lara Jean está más confundida que nunca. Cuando otro chico de su pasado regresa a su vida, los sentimientos de Lara Jean por el también regresan. ¿Puede una chica estar enamorada de dos chicos a la vez? En esta encantadora y romántica secuela de A Todos los Chicos De Los Que Me Enamore bestseller del New York Times, vemos el primer amor a través de los ojos de la inolvidable Lara Jean. El amor nunca es fácil, pero tal vez eso es parte de lo que lo hace tan increible. (Traducción Mi Biblioteca)
"Well, I still don't think it's pathetic to cry over someone. It just means you care about them deeply and you're sad."
Me encanto leer de nuevo a Lara Jean no pensé que el segundo libro fuera a ser tan lindo como el primero, pero logró estar a la altura del primero. Aquí Lara y Peter entienden que ya nada es la mentira que le contaban a todos, esto se ha vuelto real y ambos tienen sentimientos que jamás había sentido; uno de los puntos que le reconozco a Jenny es lograr plasmar el primer amor a través de una romántica como Lara, me parecio super lindo.
You can't be close to someone, not truly, with secrets in between you.
Sin embargo hubo algo que no me gusto: los celos de Lara, es decir entiendo porque no es fácil tener 16 años y enamorarte por primera vez, menos si tu enamorado está como quiere, los celos fácilmente surgirán, pero tal vez al ser mayor que Lara no me gusto ese lado de ella, porque me parecieron infantiles y patéticos. Otra cosa que deteste fue el final, MUY ABIERTO, creo que Lara y Peter merecen otro libro donde podamos ver como construyen esa relación que merecen donde nada ni nadie se interponga entre ellos.
This is what Margot was talking about, this double standard. Boys will be boys, but girls are supposed to be careful: of our bodies, of our futures, of all the ways people judge us.
Los demás personajes estuvieron a la altura, perdone a Margot porque me encanto lo mucho que ayudó a Lara y que por fin la vimos en el papel de la hermana mayor no en el de la mama. Josh fue un x en este libro y lastima por él y Margot. Kitty y el papa siguieron siendo los mismos, con una alegria increible y maravillosa, por cierto ese giro de conseguirle pareja al papá me parecio super encantador, ven por eso otro libro a ver que pasara. Y el que me encanto por completo fue John, la clase de chico que yo necesito, lastima que no lo he encontrado y si, me gusto mas que Peter.
People say absence makes the heart grow fonder, but I think they're wrong: Proximity makes the heart grow fonder.
En definitiva me gusto mucho la escritura de Jenny y seguro que le daré un chance a sus demás libros, por ahora si les recomiendo que lean estos porque son encantadores.
"Your body is yours to protect and to enjoy." She raises both eyebrows at me meaningfully. "Whoever you should choose to partake in that enjoyment, that is your choice, and choose wisely. Every man that ever got to touch me was afforded an honor. A privilege." Stormy waves her hand over me. "All this? It's a privilege to worship at this temple, do you understand my meaning? Not just any young fool can approach the throne. Remember my words, Lara Jean. You decide who, how far, and how often, if ever."
I know now that I don't want to love or be loved in half measures. I want it all, and to have it all, you have to risk it all.
Besos,