Reseña: A Court of Thorns and Roses - Sarah J. Maas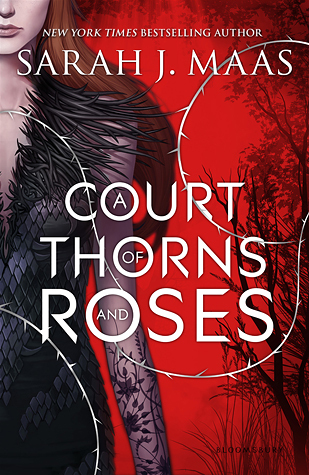 Serie: A Court of Thorns and Roses
#1 A Court of Thorns and Roses
#2 A Court of Mist and Fury
Editorial:
Bloomsbury Children's
Cuando la cazadora de diecinueve años Feyre mata a un lobo en el bosque, una criatura bestial llega a exigir retribución por ello. Arrastrada a una tierra mágica traicionera que solo conoce por leyendas, Feyre descubre que su captor no es un animal, sino Tamlin, uno de las hadas letales e inmortales que una vez gobernaron su mundo. A medida que ella habita en su tierra, sus sentimientos por Tamlin se transforman de hostilidad helada a una pasión ardiente que quema a través de todas las mentiras y alertas que le han dicho acerca del hermoso y peligroso mundo de los Fae. Pero una antigua y malvada sombra sobre las tierras de las hadas está creciendo, y Feyre debe encontrar una manera de detenerlo... o perder a Tamlin ,y a su mundo, para siempre.
In our world where we'd forgotten the names of our gods, a promise was law; a promise was currency; a promise was your bond.
Uff me tomo mi tiempo para terminarlo pero déjenme decirles ME ENCANTO. La historia entre Tamlin y Feyre fue...fue... creo que no tengo palabras para describirla, intensa, apasionante, emocionante con altos y bajos y cargada de mucha acción. Esperaba que la segunda serie de Sarah fuera tan buena como Trono de Cristal pero tenia algo de miedo de que ella no pudiera escribir algo diferente, sin embargo a pesar de que sigue siendo Fantasía Épica, tiene muchas cosas diferentes. El mundo creado para este libro es simplemente asombroso, cada Corte tiene su estilo y Sarah le va agregando detalles a medida que avanza la historia y eso que no logramos ver todas las Cortes en este libro.
Lucien studied the wine in his goblet. "You don't hold on to power by being everyone's friend. And among the faeries, lesser and High Fae alike, a firm hand is needed. We're too powerful, and too bored with immortality, to be checked by anything else."
Esta historia es de una de mis criaturas menos favoritas Las Hadas, pero al ser Retelling de uno de mi cuentos de hadas favoritos La Bella y La Bestia y estar escrito por Sarah era obvio que lo iba a leer y no me arrepentí. Me costó un poco al comienzo porque es algo lento, al ser el primer libro y al leerlo en inglés hay palabras algo complicada y no hablemos de la parte de las hadas, sin embargo Sarah siempre ha tenido una narrativa sencilla, donde te explica exactamente qué está ocurriendo. Me gusto que estuviera narrado por Feyre porque es un cambio drástico de Trono de Cristal, solo espero que no empiecen con que estara pensando los demás personajes, porque decidieron esto o lo otro, odio las mismas historias con otro POV, porque para eso existe la narración en tercera persona.
"Because I wouldn't want to die alone," I said, and my voice wobbled as I looked at Tamlin again, forcing myself to meet his stare. "Because I'd want someone to hold my hand until the end, and awhile after that. That's something everyone deserves, human or faerie."
Al ser un retelling de Bella y La Bestia esperaba encontrar los elementos icónicos de la historia, Sarah logró poner esos elementos sin exagerarlos mucho y manteniendo su esencia. Otra cosa que me sorprendió es la evolución de la escritura de Sarah, en Trono de Cristal se sigue manteniendo el estilo juvenil de la historia y conforme avanzan los libros vamos viendo como Sarah empieza a incluir elementos adultos pero sin ser tan descriptiva, en cambio aquí ella si fue muy descriptiva pero me gusto porque no llego a ser vulgar sino que está bien narrado.
I sashayed over to him, my faerie lord, my protector and warrior, my friend, and danced before him.
Los personajes se desarrollan conforme avanza la historia, eso si nos encontramos un choque entre esas personalidades ya que Feyre es muy joven, en cambio Tamlin y los demás han vivido por siglos lo que les da una inteligencia y experiencia que los hace más prudentes. Tamlin es maravilloso adoro los personajes masculinos que Sarah escribe y este libro está plagado de ellos, él fue tierno, estricto, maravilloso, desesperante y hasta cómico pero su verdadero amor por Feyre es muy lindo. Y la inclusión de personajes como Lucien y Rhysand me maravillo, ambos son muy distintos pero ambos me intrigan, quiero saber mas de su pasado y se que veremos mas de Rhys en el siguiente libro.
"I love you," he whispered, and kissed my brow. "Thorns and all."
El final fue abrumador y lo reconozco se me aguaron los ojos, fue algo que no me imaginaba y me dejó con ganas de más. Pero eso si fue un excelente final y aunque se que todavia faltan muchas más pruebas para nuestros personajes Sarah no nos fallará.
"I love you," I said. "No matter what she says about it, no matter if it's only with my insignificant human heart. Even when they burn my body, I'll love you."
"Be glad of your human heart, Feyre. Pity those who don't feel anything at all."
Besos,