Reseña: La Probabilidad Estadística del Amor a Primera Vista-Jennifer E. Smith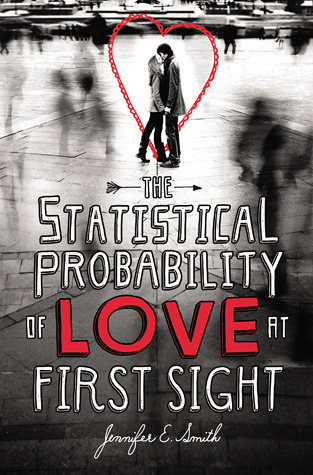 Edición: Kindle
Idioma: Ingles
¿Desde cuándo son puntuales los aviones a la hora de despegar? Hadley ha llegado cuatro minutos tarde, lo que, bien pensado, no parece mucho: una pausa para la publicidad, el descanso entre dos clases, el tiempo que lleva calentar un plato precocinado en el microondas. Cuatro minutos no son nada. Cierra los ojos solo un instante y, cuando los vuelve a abrir, el avión ha desaparecido. Los caprichos del destino y las casualidades de la vida son el motor de esta conmovedora novela sobre lazos familiares, segundas oportunidades y primeros amores. Desarrollada a lo largo de 24 horas, la historia de Hadley y Oliver nos convence de que el amor verdadero puede aparecer en nuestras vidas cuando menos lo esperamos.
"It's not the changes that will break your heart; it's that tug of familiarity."
Para ser el primer libro de Smith que leo no me decepciono, sin embargo creo que fue mas porque lo lei rapido y porque me permitio cambiar un poco del drama intenso que venia leyendo, no tiene una profundidad en la trama y tampoco en los personajes, de los cuales queria saber mas.
"Love is the strangest, most illogical thing in the world."
Veran Hadley conoce a Oliver en el aeropuerto, el es un chico ingles que estudia en USA pero regresa a casa por una cuestion familiar y ella va a Londres por la boda de su padre donde conocera por primera vez a su madrastra. La verdad aunque me gusto la idea de la historia no termine de conectar con Hadley porque me parecio sumamente molesta, en los momentos donde ella se olvida de lo que le espera en los Londres deja sacar un lado lindo de ella, pero el simple hecho de pasar por su rabieta juvenil de que su padre esta con otra y las dejo a ella y su mama, no eso si no lo aguante. No me malinterpreten, pasar por la separacion de tus padres no es facil y siendo adolescente menos, pero como YO LO VIVI, no entendi la pataleta de Hadley, de hecho lo que casi al final le explica Oliver sobre la separacion de ellos es la mejor explicacion que hay y que eso es entre sus padres ella no tiene derecho a meterse, solo debe averiguar como complementar la nueva vida de ellos con la suya.
"You know what they say, Dad said. If you love something, set it free.

What if he doesn't come back?

Some things do, some things don't, he said, reaching over to tweak her nose. I'll always come back to you anyway.

You don't light up, Hadley pointed out, but Dad only smiled.

I do when I'm with you."
De hecho el final del libro fue lo mejor por el cambio que sufre Hadley al darse cuenta que esta fallando como hija y que solo debe darle su apoyo y cariño a su padre. Con respecto a Oliver fue lo mejor y es una lastima que el libro no este narrado en tercera persona o con los POV de los dos porque asi sabriamos mas de el, en especial por sus razones para regresar a Londres. De resto es un chico lindo, atento y muy simpatico (algo asi estoy buscando y si es britanico mejor), solo me hubiera gustado tener mas de el.
"I can't believe you're here, she says, her voice soft. I can't believe you found me. You found me first, he says, and when he leans to kiss her, it's slow and sweet and she knows that this will be the one she always remembers. Because while the other two kisses felt like endings, this one is unquestionably a beginning."
Espero que los demas libros de Smith no tengan una adolescente malcriada y de resto iriamos bien porque esa clase de personajes no los soporto. Es un buen romance pero tampoco creo que sea un libro al que rendirle honores.
"He's like a song she can't get out of her head. Hard as she tries, the melody of their meeting runs through her mind on an endless loop, each time as surprisingly sweet as the last, like a lullaby, like a hymn, and she doesn't think she could ever get tired of hearing it."